15 January 2010, writed by David
category: event
Jean-Luc Moerman feat Merez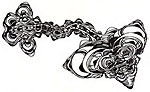 Yesterday Jean-luc Moerman met Merez (the most important tattooist from Belgium) during his opening party in Brussels (Galerie Rodolphe Janssen):
The project:
And the happening:
Photos by Fred Collard. Check the video.
Works on Paper, Galerie Rodolphe Janssen. Jan 14 to Feb 20, 2010.
You can follow both of them with their facebook: Jean-luc Moerman and Merez.

David, See Ya! - iloveyourtshirt x Play-Doh.
---
---