02 December 2009, writed by David
category: tshirt
Got your back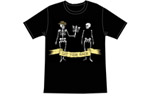 Got your back is a tshirt designed by Chucky during The Living Dead Competion:
"I Actually got the idea from a similar stickman clipart pic and thought it would be a killer concept if it were two skeletons instead. Skeletons do count as dead right?. Enjoy!"

David, See Ya! - iloveyourtshirt x Play-Doh.
---
---