30 April 2014, writed by Yar
category: tshirt
Kahn Santori Davison of "Primal Immortality" Interview
Detroit, MI -- Kahn Santori Davison has made a name for himself as a featured gallery photographer, premiere wedding photographer, freelance journalist, published poet, and is now establishing his ground in t-shirt design. His latest venture, Primal Immortality Shirts & Art, is about inspiring other artists via t-shirts.
Primal Immortality apparel is for artists, creative professionals, fitness enthusiasts, and goal-oriented people and symbolizes the goal of every artist – to be immortal.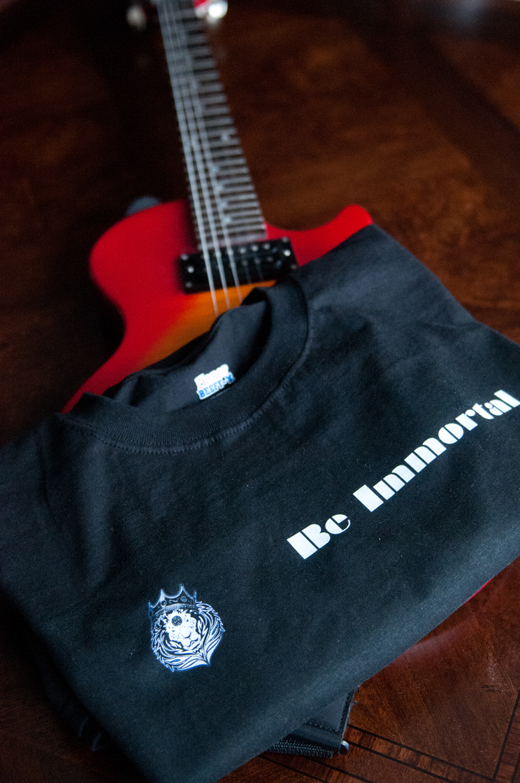 Kahn spent some time answering a few questions we had for him, pertaining to his life and design style.
Here's what he had to say...
When did you start designing t-shirts?
Last year
Where do you see yourself in two years?
I feel the brand will have grown, more designs, more fabric options, and there will more layers to the company. More videos and blogs that highlight artist and the creative process
Are you satisfied with where you are at this point in your career?
No but so far so good. I've been able to express myself creatively in various ways. I've traveled as a spoken word artist, I published poems in some very prestigious journals, I have a very successful photography business, my photography as also been featured in galleries and I have the support of my wife and kids. My shirt-biz is about putting all those things together.
Are you a procrastinator?
No.
Do you over-think projects?
Sometimes. In the beginning, I had too many designs and too many colors. The cost to print the quantity and screens was to high, so brought it back down to 6 designs and 2 colors for most shirts. That way I can control cost more effectively.
Do you follow an orderly schedule?
No, not at all. Lol. I make mental notes, cell phone notes, and loose leaf paper notes. I have 4 children so I'm always on the go and you have to create and take care of business whenever you can.
Are there specific methods that increase your creativity? Who or what are your artistic influences?
My muses are other artists. My friend Rodney Denne is an amazing painter, my friend Jamaal May is an extraordinary poet, there's others. Watching them create is what inspires me to create. I'm just a fan of the creative process as well as the creation. I love seeing how novels, poems, paintings, sculptures, and drawings are put together from beginning to end.
Do you look at this type of art as business or just a hobby?
Both. It's a business so it has to make money, but it's also an art which makes it fun and I'm very passionate about it.
Do you have any business experience?
Yes, from starting my photo biz.
Have you ever been ripped off? If so, was it subtle or obvious?
No.
Is there any particular design you are most proud of?
The slogan "Be Immortal." That slogan defines my company and so many other artists out there.
Is there a design that you didn't like, but received high acclaim?
No.
Do you have any formal training or schooling?
I have a B.A. in Communications from Oakland University in Detroit. Several photography and poetry classes and private workshops and retreats
What motivates you in life?
My wife, kids.
Are you single, married, or have a significant other?
Married
Do you have a preference for screen printing or DTG (Direct-To-Garment) printing?
Screen for the most part. Though DTG is a lot more durable than people give it credit for.
Mac vs. PC?
Mac. Just a more durable computer. I worked my Macs to death! Lol They hardly ever get cut off.
Do you engage in physical activity (work out, yoga, martial arts?)
Yes, I'm a fitness enthusiasts. Lost about 70 pounds a year ago. I was so focused on creating art-that I got fat! lol
Are you a fan of any sports?
Football, baseball, basketball, weight lifting
Are you a vegetarian or vegan?
I was a vegetarian for 5 years and just got fat.
What languages do you speak?
Only English
Do you play any instruments?
No, but I grew up taking piano lessons and I have a electric guitar I hope to learn one day.
Who are your favorite music artists?
Coletrane, Hendrix and Marley (in that order)
Do you have any favorite TV shows?
Pawn Stars
Do you produce art in any other mediums?
Just poetry, photography, and graphic design. I hope to get into Mix Media art one day.
If you watch or listen to the news, from what source(s)?
Internet. MSN, CNN, Huffington Post
What movies do you enjoy most?
Documentaries.
Do you have any favorite books, book series, or authors?
Malcolm Gladwell
Do you have any political stances (left, right, middle)?
No.
What is something that you hate or absolutely enrages you?
People who talk loud and confidently with very little knowledge on the subject matter they are talking about.

---
---