02 September 2009, writed by David
category: tshirt
Le rose et le bleu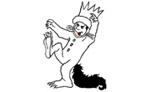 Established in 2009, the label & brand come's from the heart, culture, communication, thought & taste of individual's with imagination & creativity.
The name alone is a combination of a lost heritage, a comic character and a song, all three title's were sprinkled & blended into one and 'Le rose et le bleu' was born.
Taking a fresh look into various artistic doing's/form's from around the world, mixed in with vibrant colour's, and then topped off with fine imagery.
T-Shirt's come in men's size's, no woman's range but for a loose / baggy effect or trend these style's & design's can be unisex & still look fresh. But stay 'In the loop' because in the near future a woman's range will be available, still in production & waiting to dry & serve up, like dripping wet paint & yummy biscuit's!
Matthew Jonathan Payne, Le rose et le bleu:
"That is what 'Le rose et le bleu' is bringing & that is what 'Le rose et le bleu' is beaming down onto fabric. We do not stick with theme's, we go with imagination, abstractness, flow & inspiration from the wonderful & weird everyday surrounding's that we all witness & breathe in with a fine mixture of film, art & music vibe's... the list goes on.
The one attitude we have is - 'Haute Couture' (French for 'High sewing' or 'High dressmaking'), this refer's to the creation of exclusive custom-fitted clothing. Haute Couture is made to order for a specific customer, and it is usually made from high-quality, expensive fabric and sewn with extreme attention to detail and finish - That is our aim & passion."

David, See Ya! - iloveyourtshirt x Play-Doh.
---
---