10 August 2009, writed by David
category: tshirt
Rake and Strays by EIO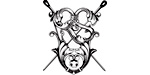 EiO Clothing (Excess Is Ok) is probably best known for its loud, outlandish and sometimes even outrages designs.
Eio has managed to capture music and fashion press alike with each collection it launches. From the infamous striped metallic vest, seen on not one but two of the Sugababes. To the Skull and Diamond tee which has been spotted on Scottish music sensation Calvin Harris on numerous occasions, both on and off the stage.
In the latest instalment by the creators of EIO, you can see a toned down approach to design that represents, as they say "sympathy with the past".
The new label Rakes & Strays is a seemingly much more calm and tranquil collection that also has an edge of the punk rock scene.
The choice of materials used are once again of the highest quality. Only the finest, richest cottons are selected, as always. The new range also explores different fits of garments, ranging from the rather aptly named classic tee, right through to the more vintage, Rebel tee.
Another element of the Rakes & Strays collection that stands out is the amount of designs available in the women's collection. Changing the company from a predominantly male market and providing a range of amazingly cut long tee's and dresses .
The prints are placed on the garments with such precision that it would almost appear that some magic were involved. This is actually just the outcome of hand printing, a process that EIO and Rakes & Strays use on all of their printed products.
You can follow EIO with their twitter and facebook.

David, See Ya! - iloveyourtshirt x Play-Doh.
---
---