22 May 2010, writed by David
category: tshirt
Make This A Home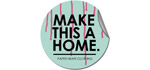 The Paper Heart Clothing's 2010 spring line called "Make This A Home" and the new improved website have been released, check it out:
They have taken it up a notch with quality of threads (American Apparel) and with the range of colorways. The shirts are still strictly limited to only 120 total.
You can also read our previous article about the Paper Heart Clothing brand.

David, See Ya! - iloveyourtshirt x Play-Doh.
---
---