16 December 2009, writed by David
category: tshirt
A new collaboration by Elena Gallen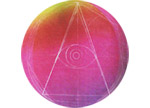 Elena Gallen (our previous article about her), visual artist from Barcelona collaborated with french brand Kulte on this limited edition series of t-shirts "The Final Day" which theme is the end of the world.
The four styles have mystic names and graphics: DIVINE INTERVENTION, THE END OF THE WORLD CAUSED BY A BLACK HOLE, ASTEROID IMPACTING ON EARTH and GLOBAL WARMING.
This collaboration with Kulte has been produced in a limited series which are only available online and at selected Kulte stores in Paris, Marsella, Aix-en-Provence, Tolouse, Biarritz and Bordeaux.
They can be purchased online at Elena Gallen. T-Shirt are made in soft white cotton, with interior screenprinted exlusive tags, hanging black tags, high quality screenprints and individually packaged in super thin plastic bags.

David, See Ya! - iloveyourtshirt x Play-Doh.
---
---