29 July 2009, writed by David
category: tshirt
New Tshirts at MR Poulet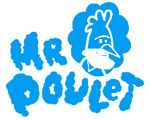 New t-shirts at Mr Poulet: two of them are mr poulet's french guests well known artists.
They are called Cizo for the t shirt "Bama Khou islands" and Margaux Motin for the t shirt "Cream.
Others are printed after basic contests. Models are fans casted on facebook.

David, See Ya! - iloveyourtshirt x Play-Doh.
---
---