06 September 2010, writed by David
category: tshirt
Hunter S. Thompson tee, in presale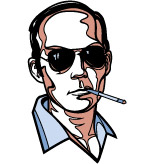 The Fear N Loathing box set (by Cloxboy) is on presale today, until September 12th. As an added bonus, the t-shirt also comes with a print signed by the artist himself. Be quick (we have a promo code below).
The Cloxboy Fear N Loathing box set includes: high quality, screen printed t-shirt, signed 8.5" x 11" art print, certificate of authenticity, artist bio on the neck label, LTD tee sticker pack and a custom LTD tee box.
Of course, you can save 20% off with our discount code: "iloveyourtshirt" :-)
Don't forget: you can download the Fear N Loathing Wallpapers !

David, See Ya! - iloveyourtshirt x Play-Doh.
---
---