08 December 2009, writed by David
category: wear
Snakes and Suits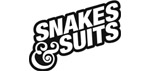 Chicago based clothing company Snakes & Suits  recently released their 2009 Winter Line (and a brand new web site and a custom web store).
The new collection features a great selection of Snakes & Suits' new custom woven shirts, hoodies, a
collab with 11:11 am, and signature t-shirts (A percentage of the proceeds from the 11:11 am collab tee go to the Pediatric Cancer Research Foundation).
The new tees are priced at $19.99 a piece and thewovens are priced at an affordable $33.99. The wovens come in 4 different colorwars and are available in mens and womens sizes.
You can follow Snake and Suits with their twitter, facebook and myspace.

David, See Ya! - iloveyourtshirt x Play-Doh.
---
---