10 August 2009, writed by David
category: tshirt
Random Objects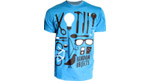 Random Objects is the new tshirt created by Random Objects. The tshirt is also available in ladies size. All orders come with cool stickers.
Atnthony, Random Objects:
"This tee is for anyone who collects or photographs random objects. Here at RANDOM OBJECTS we are naturally obsessed with random objects.
It does not matter whether we are walking on a beach or on the city street; we'll find something to bring home with us! Life is a collection of random objects!".

David, See Ya! - iloveyourtshirt x Play-Doh.
---
---