11 November 2009, writed by David
category: tshirt
Robatabrand tshirts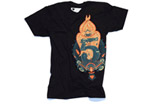 Robatabrand designs shirts that act as visual biographies of unique persons of interest (promo code bellow).
Mark Barry, Robatabrand:
"Right now, we have two groups of shirts in our catalog. Our reprinted and updated "Science" series features Yuri Gagrain, the first man in space; Stepahnie Kwolek, the inventor of kevlar; and Christian Barnaard, the first doctor to perform a successful heart transplant.
And our fresh new "Literature" series features Kurt Vonnegut, the author of Slaughter House Five and Cat's Cradle among others; Raymond Carver, the man that brought short stories back into favor; and Sylvia Plath, the dark and amazing poet."
You can use the promo code during check out and get 10% off your order: iloveyourtshirt. You can follow Rabatabrand with their twitter and facebook.
Our favorite:

David, See Ya! - iloveyourtshirt x Play-Doh.
---
---