14 September 2009, writed by David
category: tshirt
Varial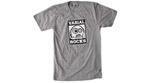 Varial est une jeune marque créée il y a moins d'un an par des amis en provenances de Genève et de Montpellier.
Vous souhaitez obtenir 20% de réduction sur la collection Varial? Nous avons ajouté un code promo sur notre page facebook.
Jérémy, un des fondateurs, nous parle de sa marque:
"Notre objectif est d'appeler à un retour au sources au sein de ce milieu qui a tendance à se "professionnaliser" un peu trop, en rappelant que ce qui compte avant toute c'est de se faire plaisir, les sensations et le bon esprit, d'où notre slogan: "Whatever your ride is, it's all about spirit".
Nous essayons d'être le plus actif possible au sein du milieu des sports extrêmes, en sponsorisants quelques jeunes en BMX, Skate et Wakeboard, en organisant des contests (Les "United Ghetto Jam" à Genève en partenariat avec RedBull) et en participant à des événements importants comme Le FISE à Montpellier...
Concernant nos produits, pour le moment nous ne vendons que des tshirts et des casquettes trucker mais nous allons nous diversifier à l'avenir (sweat zippés, new era).
Les teeshirts sont des american apparel, sérigraphiés en france en petites séries de moins de 80 pièces à "L'atelier du grand chic" (les casquettes elles aussi sont sérigraphiés au même endroit)."
You can follow Varial with their twitter and facebook.

David, See Ya! - iloveyourtshirt x Play-Doh.
---
---