26 September 2009, writed by David
category: tshirt
Howies tshirt of the month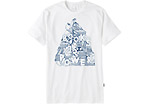 At Howies the T-shirt of the Week will become T-shirt of the Month (just for the colder months).
Anna, Howies:
"This means we'll still be bringing out some great tees, but instead of just being available for one week they will now be available for four weeks. So, to kick things off, this T-shirt of the Month is 'Books Is Power' by Andy J Miller.
What we love about books:
Books is relaxation, Books is take you away from reality, Books is learn some stuff you didn't know, Books is great words, cool characters, bright colours and cool pictures, Books is a beginning, a middle and an end (most of the time), Books is turn that TV off for goodness sake.
Books is power."

David, See Ya! - iloveyourtshirt x Play-Doh.
---
---