04 February 2014, writed by Yar
category: tshirt
Victor Calahan: T-Shirt Designer - Graphic Designer - Illustrator Interview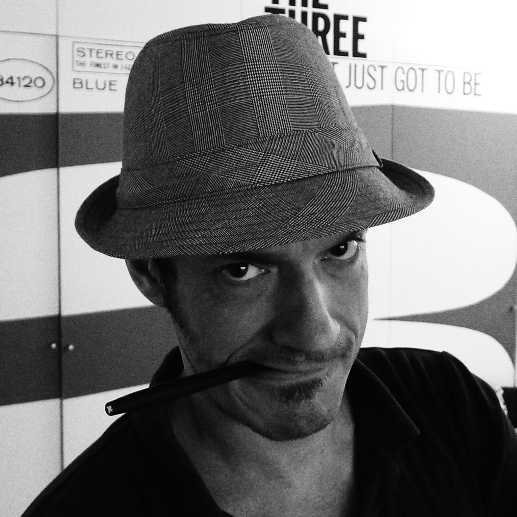 Paris, France -- Victor Calahan is a free lance T-shirt Designer, Graphic Designer & illustrator living in Paris, France.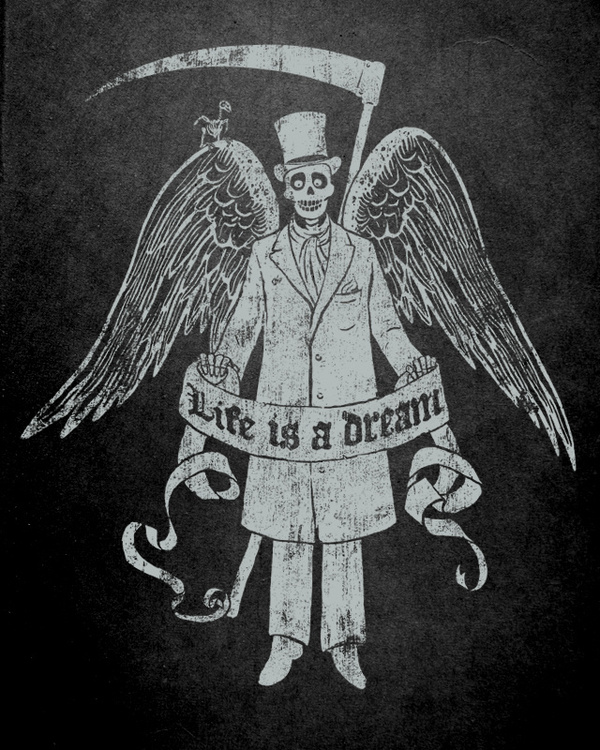 Victor grew up in other countries as well, including Great Britain and Canada. As a designer he mainly works for independent movie distributors, designing posters, promotion material, DVD's, and press books.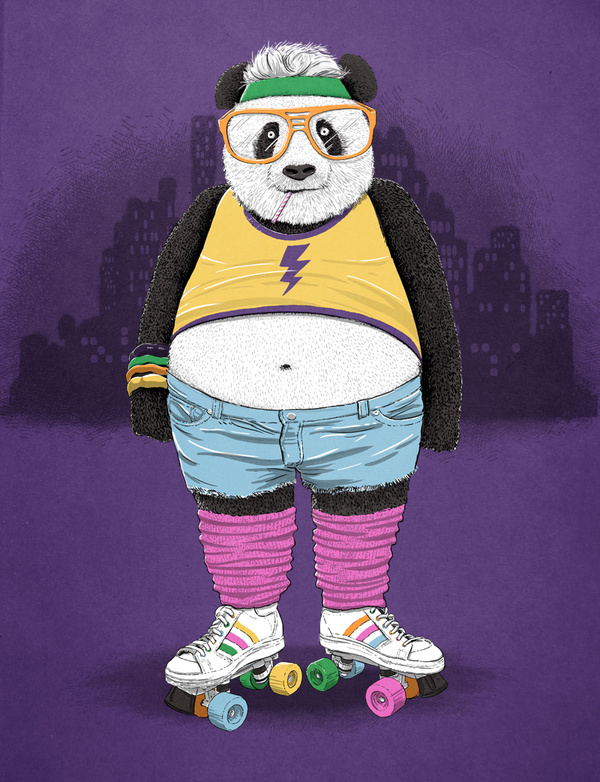 He also does some logo and corporate design. Illustration & shirt design is a side occupation for him, which has grown bigger with time.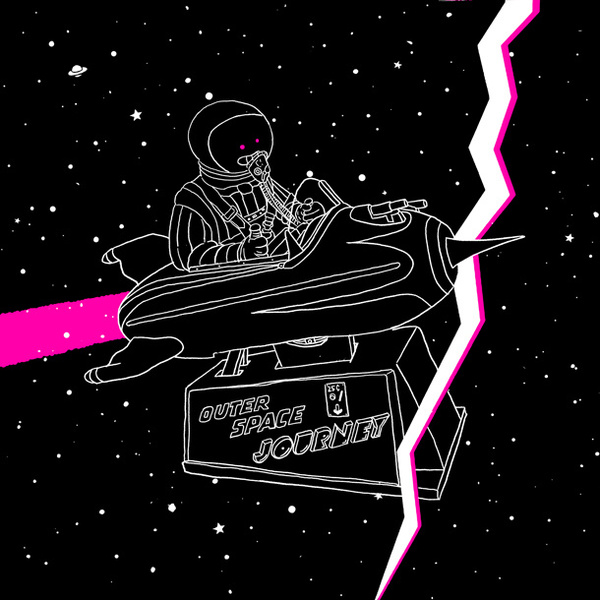 Victor wants his t-shirt designing to become a more serious aspect of his career.

When did you start creating art?
In art school.

Was there a point when you began to take art more seriously?
Alas, being serious has never been my strong point.

If you go by one, where did your nickname, or "nome de plume" come from?
As a kid I had a soft spot for Dirty Harry, thus Calahan (but with one L because I'm featherbrained…) and victor is a variation of my first name.

How would you best describe your style?
That's a hard one. In my regular job as a graphic designer I've always work in a way where the style is always dependant to the idea, if I have the feeling that what I want to express on a job needs a vintage touch or a minimal feel, I'll go that way. So from a job to another, it changes. The true important thing for me when creating is balance and I guess my shirt designs go the same way, I have an idea and try to find which style suits it it better, thus the different aspects of my works…

At what age did you develop this style?
Through time, and it's always evolving…

Who or what are your artistic influences?
So many, I'm a fan of vintage artists, like Gustave Doré, Sir J. Teniel, and their contemporary counterparts like the huge Crumb. I'm a Moebius fan, and other artists like Pratt, Chris Ware,Tardi, Steadman etc…. I also love people like John Heartfield, Warhol, Rauschenberg, Beard, etc… classic period painters and to top the cake I grew up with the Monty Pythons who have made a strong and everlasting impression on me.

When did you start designing t-shirts?
Around 2009 when I discovered shirt sites. That's when I started doing illustrations which I had stopped doing long time ago…
Do you look at this type of art as business or just a hobby?
I'd love it to be a business more than a hobby, it would be a way of combining pleasure with harsh realities, but for now, it's more of a time consuming hobby since I'm at a lunar distance from being able to live out of it.

Do you have any business experience?
As a graphic free-lance designer, yes, but regarding other matters, no.

Have you ever been ripped off? If so, was it subtle or obvious?
Dunno, maybe in subtle ways, same ideas, themes, but it also happens that since you're competing with so many people, ideas are sometimes very similar yet being the result of sheer coincidence.

Is there any particular design you are most proud of?
Not really, but when I see my recent designs like Rainman I feel that I'm getting somewhere and that's important to me.


Is there a design that you didn't like, but received high acclaim?
Not that I can remember as far as my designs are concerned… :P
Do you have any formal training or schooling?

I studied graphic arts and illustration.

Do you have a college degree?
In graphic design & illustration.

What motivates you in life?
Probably my loved ones, but I'll get back to you when I have a wider answer.

Are you single, married, or have a significant other?
I'm living with the lovely Mam Calahan and our amazing Little Miss Calahan.

Do you have a preference for screen printing or DTG (Direct-To-Garment) printing?
Screen.

Mac vs. PC?
Mac
Favorite clothing brand?
I usually dress with paper sheets or banana leafs.

Do you engage in physical activity (work out, yoga, martial arts)?
I'd love to say that my kung-fu is good, that I base jump or do great aerials on my board but that is not the case. I am a natural fit… :p
Are you a fan of any sports?
Not really.
Do you cook?

Depending on what you mean by that, I'm the cook here but not a chef for sure.


Are you a vegetarian or vegan?
A vulcan who loves a good steak.
What languages do you speak?
French, English and some Spanish.

Do you play any instruments?
Guitar

Who are your favorite music artists?
Stones, Beatles, Radiohead, Neil Young, Fugazi, Hendrix, Joplin, Costello, Bad Brains, Nirvana, Hendrix, Dylan, Fishbone, Prince, Miles Davis, James Brown, Funkadelic, Bowie, Iggy, Talking Heads, and I could go on…
Do you have any favorite TV shows?
Mmm… these days, I've watch Fringe, Game of Thrones, Hell On Wheels…
What is your preferred method of transportation (motorcycles, bicycle, car, walk)?
Any will do… as long as I get there.

What brands/models of cars do you like?
As a kid I dreamed of having a 1950's Chevrolet Corvette… I'm still dreaming… and for bikes I love English vintage bikes like Bonneville Triumphs…
Do you produce art in any other mediums?
I put my stuff on S6, so it's also art prints, cases etc.
If you watch or listen to the news, from what source(s)?
Mainly internet, can't say TV is a reliable source, but I like better cross-checking information on different sources anyways.

What movies do you enjoy most?
I've always loved sci-fi movies but there many other that I dig, not forgetting to mention the Python's again…
Do you have any favorite books, book series, or authors?
Faulkner, Sartre, Camus, Dostoievski, Boulgakov, Borges, Buzzati, Harrison, Bukowski and many other for the classics but also sci-fi/fantasy writers like P. K. Dick, Van Vogt, Asimov, Tolkien…
These days I'm more into stuff like Deon Meyer and one of my fav's lately R.J. Ellory… "A quiet vendetta" or "A quiet belief in angels" were a revelation to me.
Do you prefer smart-phones or not-so-smart phones?

I've got an Antique dumb phone but I guess I'll update myself someday…

Do you have any political stances (left, right, middle)?
More of a lefty I guess…

What is something that you hate or absolutely enrages you?
Too much to pick from… ;^)
This interview took place 22/07/2012

---
---