30 June 2010, writed by David
category: tshirt
Ardentees, a new apparel company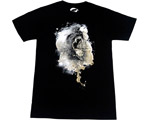 Ardentees is a new apparel company aimed at advocating artists and the arts. Each tee-shirt is a collaboration with new and talented artists and designers all over the world, where their designers have free-rein to create.
They hope to promote and support the arts through their showcase and dissemination.
You can follow Ardentees with their twitter, facebook and blog.

David, See Ya! - iloveyourtshirt x Play-Doh.
---
---