11 August 2009, writed by David
category: tshirt
Fabrik Addict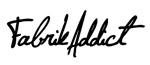 There's one word that sums up Fabrik Addict, its "Attitude". Fabrik Addict is a lifestyle brand offering high quality, American made clothing designed to resist the toughest entities, while remaining fresh and vibrant.
Based out of New York, Fabrik Addict is both an apparel company and an artist collective.
Joseph, Fabrik Addict:
"Our products feature collaborations with a variety of artists who aspire to create diverse designs for anyone looking to get their next big fix. Our background is in graphic design, but we're driven by graffiti, fine art, engineering, illustration, and superior design.
Fabrik Addict has evolved itself into a revolutionary t-shirt line built on self-expression. We want the best for our customers, and it proves itself well in our products too. We print all our designs on tagless, ultra-soft, premium, American Apparel tees giving you the best in quality, and an itch-free night out.
Our collection is modern and sophisticated, becoming the basis of today's urban culture. Like its core customers, Fabrik Addict moves effortlessly between skate-park and nightclub. Sleek, stylish, distinct, our collection guarantees an addiction even rehab can't fix".
You can follow Fabrik Addict with their twitter, facebook, myspace and flickr.

David, See Ya! - iloveyourtshirt x Play-Doh.
---
---