07 August 2014, writed by Yar
category: tshirt
Food On Your Shirt: The Roger Mooking Collection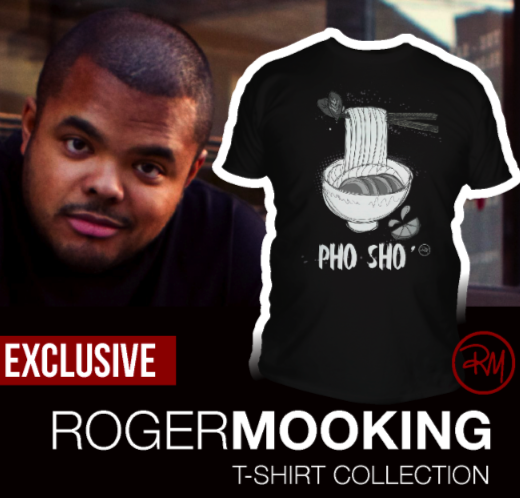 The Roger Mooking Collection from Food On Your Shirt bridges the gap between fashion and the culinary world with 6 striking designs for the food lover in all of us. The exclusive Collection is the brainchild of celebrity chef & host Roger Mooking and award-winning graphic artist Pierre Lamielle.
The Roger Mooking Collection boasts vibrant colours, bold animation and playful slogans like "Pho' Sho" featuring a bowl of Roger's favourite soup, Pho. Printed on high quality shirts, each design captures Mooking's effervescence for life, laughter and cooking.
Having had design ideas in his head for years, Mooking met fellow chef and acclaimed graphic designer Lamielle and knew he'd found the perfect person to bring his vision to life. From inception to sketch to print, Mooking and Lamielle worked on designs they knew everyone would love as much as they did.
The Collection speaks to the expressive and democratic nature of t-shirt culture, something Mooking loves. "I want people to make it their own."
The shirts are available in men's and women's cuts, from sizes S to 4XL at http://rogermooking.com/shop.

---
---