13 August 2009, writed by David
category: tshirt
Linework, a new tshirts brand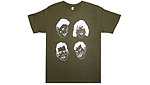 This summer Sam Falcone - a young illustrator from the UK - decided to merge their designs with Organic T shirts and start his own business , namely Linework.
Sam Falcone, Linework:
"I knew that my designs were unique to me and i wanted to combine these with ethically produced garments with a thought for my impact as a business. I was also intent on hand printing my designs to give each Tee a unique feel.
My works are mostly playful surreal images based around my inspirations at the time. For example the Lust Tee was for a project I was working on where I was attempting to illustrate cities of the seven Sins in my own way.
So the website has been launched with an initial set of designs, hand printed on to organic shirts and I am working frantically to get everything going so I can provide the best service for customers and make people aware of Linework.
I use recycled packaging and advertising materials and hope to provide beautiful shirts which will make people feel good about themselves. In the future I hope to expand into other garments, and branch out into selling Prints from up and coming Illustrators like myself."
You can follow Sam with his blog

David, See Ya! - iloveyourtshirt x Play-Doh.
---
---