02 October 2009, writed by David
category: tshirt
Nonoloa Collective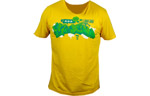 Nonoloa is a creative platform designing clothing from urban art. They launch a new collection every 6 months building on the creations of urban artists working under Nonoloa's art direction.
Their artists include: nano 4814, eltono and Nuria, currently at the Tate Modern, Boris Hoppek, ipunx, G.O.D, Eva Solano, Gabriel Moreno, Steve Tsang, a1one, borraska, Boxmati, Tono Merinero, etc.
You can follow Nonoloa Collective with their facebook, myspace and twitter.

David, See Ya! - iloveyourtshirt x Play-Doh.
---
---