12 January 2010, writed by David
category: tshirt
Submit and remix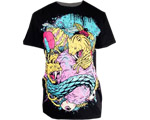 Tom Bracewell, the founder of Submit and Remix:
"The idea behind S&R is that each series we ask two artists to create a tee design for us based on a theme of our choosing, once we have these two designs we swap them over and ask the artists to reinterpret the others design in their own style.
Each series we hope to take it in new directions and get these really interesting designs from artists by forcing them to reinterpret someones work they might never have looked at before, its an exciting prospect and we have some really nice ideas and artists lined up for the future.
Series 1 features Florida based Horsebites from the design supergroup the black axe, and Keaton Henson who resides in the UK, both have very distinct styles and have created some really great designs for our first series."
You can follow Submit and Remix with their twitter, facebook and myspace.

David, See Ya! - iloveyourtshirt x Play-Doh.
---
---