09 November 2009, writed by David
category: tshirt
Springleap competition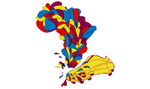 The winner is ShampooWarrior with his design Color Culture, an awesome colourful design with a subtle football message. Why football?! Because the FIFA World Cup is due soon and the whole of South Africa is a-buzz with Football Fever!
This is what ShampooWarrior has to say about his design: "Let us be proud of our cultures. The bursting of colors in my design represent the cultures of africa. Although we play for different teams, we are united."


If you'd like to get involved in voting or submit designs at Springleap.com take a look at the briefs for our upcoming competitions The Living Dead and Enviro Mental! Upload the Submission Kit here so that you're kitted to send your design in.

David, See Ya! - iloveyourtshirt x Play-Doh.
---
---