05 August 2009, writed by David
category: tshirt
Glamour Kills x Peta2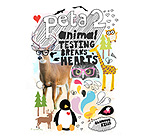 Youth brand 'Glamour Kills Clothing' have announced the release of a very special t shirt designed in collaboration with Peta2, The People For The Ethical Treatment of Animals.
The shirt has been designed in order to promote Peta's 'Animal Testing Breaks Hearts' campaign and is already selling well among fans of the brand.
Jay, Glamour Kills Clothing:
"Peta2 came to us after we won a Libby Award for "Most Animal Friendly Clothing Company". The theme was "Animal Testing Breaks Hearts" so we took that idea and ran with it! We love what the people at Peta2 do and are extremely glad they asked to work with us on this design".
A spokesperson for Peta2 said:
"We are so excited to be partnering with Glamour Kills with the 'Animal Testing Breaks Hearts' t-shirt to raise awareness that animal testing is both outdated and causes suffering to countless rabbits, mice, rats, cats, dogs, monkeys, and other animals".
You can follow Glamour Kills at twitter, facebook and MySpace.

David, See Ya! - iloveyourtshirt x Play-Doh.
---
---