31 May 2010, writed by David
category: tshirt
The Black Button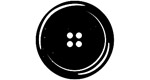 The Black Button brand was founded in 2009 from the idea of creating something simple but unique. It all starts from the study of the classic man-tee: a cult that never goes out of style, which is not used by women as underwear anymore and which is not only seen as the "street-wear" icon.
The man's t-shirt has been modified and embellished following the trends of the moment, gaining more and more presence in women's everyday wardrobes.
For summer 2010 they have decided to offer their interpretation of the vest, rigorously oversize: "The scribble and silhouette Collection."
As they did for the t-shirt, they revisited a maxi man tank, making it more feminine, sexy but at the same time comfortable.
They had a great time in thinking and creating the designs for this collection, that has the same romantic base but this time they added a touch of dirtiness and scribbles to it, and it s offered in a numbered limited edition, handmade of course, to make every peace unique and personal.
You can follow Black Button with their twitter and facebook.

David, See Ya! - iloveyourtshirt x Play-Doh.
---
---