26 September 2009, writed by David
category: tshirt
The beat is back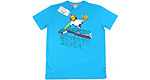 The beat is back, and this time it's even bigger. Edgy British streetwear label Seventyseven have unveiled their awesome new Autumn/Winter '09 collection, a compilation of apparel that draws as much influence from punk and high art as it does hip hop and graffiti.
Just like the musical influences the label is inspired by, the collection benefits from touches of both the retro and the fresh to present a diverse and enviable style that will keep wearers looking hot in the inevitable cooler climes.
The new collection shakes up the old concept of winter gear, injecting each piece with music and colour to transform them into bang up-to-date reincarnations. Colour-blocked windbreakers, bold striped knits with high contrast stitching, vintage-inspired western checked shirts and hardwearing denim head up the winter clothing revolution, supported by all of the bold and brilliant graphic hoodies and tees that have come to be expected from the prolific Seventyseven brand.
New additions to the extensive tee collection are infused with countless references to the musical, with mix decks, vinyl records and headphones printed onto bright cotton tees; not to mention rumours of an appearance by a certain Jimi Hendrix.
For this collection, Seventyseven also expands their popular collection of accessories with essential winter beanies, elasticated wallets and canvas belts, all of which are functional designs that complement the rest of the electric collection.
Drawing upon lessons from previous generations, Seventyseven appreciates the incredible link between streetwear and music, particularly how each influences the other to become a cultural movement of making a statement and having good times. To support this, the brand offers the apparel accompaniment to the soundtrack of the noughties, of intensity and dynamicism, boldness and fun.
With each new collection Seventyseven presents its own interpretation of the feel of the time, marking its own place not only in the place of the current market, but in British streetwear history.
Seventyseven can be purchased from Seventyseven online or from an extensive range of independent retailers which can be found under the stockist's section on their website.
The label currently delivers two full seasonal collections a year plus mid-season injection ranges and limited edition treats. Brand spanking new styles and additional colourways are continually added to the range, so be sure to check back to the site regularly to view the updated Seventyseven products and happenings.
You can follow Seventyseven with their twitter, facebook and myspace.

David, See Ya! - iloveyourtshirt x Play-Doh.
---
---