02 September 2009, writed by David
category: tshirt
The new Long's tshirts are there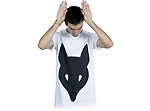 Formed in 2008 by young designers Gareth Emmett and Rhys Dawney, Long has quickly built up a cult following that is stretching across the UK and the rest of the globe.
The brand made its official launch on February 8th 2009 at the 'Margin' tradeshow (London) where it gained a large amount of press attention as well as a selection of independent stockists throughout the UK.
Long now has a successful webstore, worldwide stockists and recognition from top fashion websites across the globe.
The roots of the brand have not been lost however, with the creators still individually screen printing each tshirt by hand in their East London studio, now Long HQ.
You can follow Long with their twitter, myspace, facebook and flickr.

David, See Ya! - iloveyourtshirt x Play-Doh.
---
---