27 November 2009, writed by David
category: tshirt
Young Gifted and Slack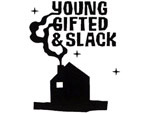 Young Gifted & Slack launched in 2006 to give you something a little different to put a smile on your face in the world¸ of t-shirt design.
Designer and founder, Mat Deaves is based in London in the UK, has stockists in London, Brighton, Bournemouth, Australia, New Zealand and the company happily delivers to everyone in between and beyond.
YG&S first came into being one cold winter?s day in March in North London?s legendary Camden and carried on like an obstinate beast in the rain, wind and snow though the seasons to build up the fine array of designs you now see before you.
YG&S is always looking to the future whilst having a cheeky wink at the past and is constantly designing new creations so please keep checking in to see what?s new.

David, See Ya! - iloveyourtshirt x Play-Doh.
---
---