07 September 2009, writed by David
category: tshirt
Collect London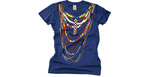 Newly launched t-shirt label Collect London is making its mark on the fashion world with a range of tried and tested cuts to cater for every body shape and desired fit, with a unique range of limited edition print designs.

Shunning the idea that 'one size fits all', Collect London has undertaken extensive consumer testing to come up with a range of t-shirts in a variety of styles.
Simply decide whether you want a fitted, regular or relaxed fit, then browse from the collections Plain, Patterned or Printed ranges featured on its online store, a customer friendly site which offers guests a sophisticated online retail experience.
The Printed range features designs created by the UK's top up and coming artists, a result of Collect London's desire to support exceptionally talented creative's. Woody Morley, founder of Collect London says "the idea is to tap into the UK's rich but often underutilized creative talent and give them an opportunity to showcase their work".
Truly unique, each of the Printed designs are produced in limited edition runs of 100, with each print individually numbered on the label and every piece exclusive. Collect London ensures you stand out in the crowd. Your only concern is being fast enough to grab one!
The Inaugural collection, created around the theme "Endangered", includes designs from established designers including notables such as Robert Cary-Williams as well as fashion and art students.
The range was inspired by Collect London's ethical approach to production. Collect London is the antithesis of mass-produced, low cost high street fashion.
The t-shirt has come a long way from its beginnings as wartime underwear, with each incarnation symbolizing the sign of the times. Collect London is the symbol of today, unique wearable art, exciting collaborations and a superior choice of cuts.

David, See Ya! - iloveyourtshirt x Play-Doh.
---
---