06 March 2010, writed by David
category: tshirt
Guy Vernes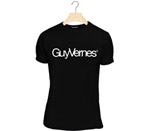 From a 3 by 4 meters room playfully dubbed "The Mansion", in an old glue factory on the outskirts of the beautiful Dutch city of Delft, Guy Vernes designs and produces artistry in tees for the boys of today.
With an infinite hunger for beauty and perfection, the brand strives on feeding an ever-growing and dedicated fan base with timeless excellence, bringing about authentic products through a world of boyish finesse and overall awesomeness.
The current collection is a display of six individual designs reintroducing the characteristic work of Guy Vernes in five tees and a polo shirt. A showdown in color and consistency, the series initiate a new artistic era for the brand.
You can follow Guy Vernes with their twitter, facebook and Hyves.

David, See Ya! - iloveyourtshirt x Play-Doh.
---
---