20 May 2010, writed by David
category: tshirt
Parinto, a brand we love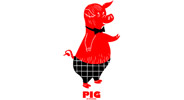 Parinto T-shirt Design Store is curated by Auckland based designer Stephen Richardson and features designs by eclectic group of creatives including: Nathalie Du Pasquier, Blanca Gomez, Rufus Dayglo/Tank Girl, Max Gimblett etc.
The Parinto site also has regular interviews, articles and news relating to our contributors and areas of interest.
You can follow Parinto with their facebook and twitter.

David, See Ya! - iloveyourtshirt x Play-Doh.
---
---