25 October 2013, writed by Yar
category: tshirt
Eat Raw Meat 'Samhainophobia' Range Coming Soon
London, England -- Through a connection running from London, UK, to Montreal, Canada, Raw Meat is the thoughts, ideas and bad trips of Michael Shantz and Doyle Raw Meat. With a shared love of toys, art and fashion, and a love of all things creepy, monstrous and twisted, Raw Meat make sure everyone gets to be a part of their creepy family.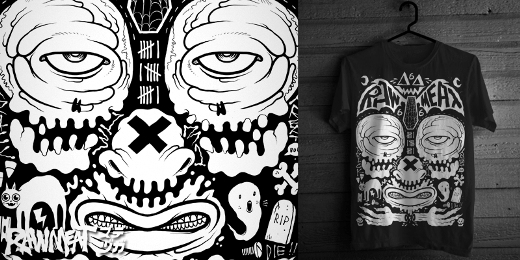 On Halloween 2013, the night Ghouligans take back the streets and the Creepz come out to play, the deviant duo will release a new range to celebrate this misunderstood family. With 19 new items added to the store, including the Limited Edition 'Samhainophobia' range by the King of Creepz himself, Michael Shantz, there's something for every creep out there.
The new range will be available online from 31st October at www.eatrawmeat.com: stay tuned.

---
---