26 August 2009, writed by David
category: tshirt
Oh-Death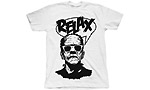 The O-Death concept was realised at university by Jordan Atkinson where he was studying graphic design, the perfect environment for the idea of a creative label to be explored and nurtured.
The label is still young, with its journey only beginning with the launch of the music blog, and production of the 'frankie' and 'vamp' t-shirts during summer 2006.
Over time, the label will spread its creative wings with the intention of bringing on board other creatives with similar ideas and motives as the vein as Oh-Death.
Since then, Oh-Death has grown into a djing, blogging, designing and illustrating machine, covering all the bases by producing t-shirts, prints, mixtapes and even the odd bit of design by commission.
Endeavouring to channel the creativity not used up in his day job designing T-shirts for bands and festivals, Oh-Death's illustrations are inspired by observations of modern culture, reflections on current affairs, music, random thoughts and lucid dreams.
This is the stuff that rides the line between the real and the metaphysical, and rather than being captured on canvas and fated for storage in a gallery somewhere, these are works that aspire to be much more accessible.
Oh-Death stamps itself on the wearable and the aural. It likes bold t-shirt designs proving you can make a statement without being pretentious about it. High quality screenprints provide a more natural and satisfying platform for expression than your average poster - and looks a damn sight better on your wall too.
The oh-death website now gets a steady flow of hits each day with progressively more people wanting to experience what are not just your usual internet ramblings but a manifesto of text, downloadable mixtapes and juicy graphics.
You can follow Oh-Death with their twitter, myspace, facebook and blog.

David, See Ya! - iloveyourtshirt x Play-Doh.
---
---